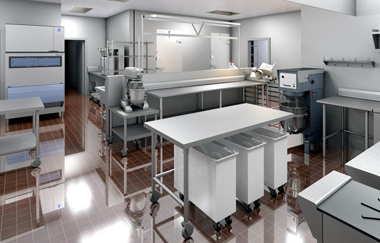 Custom Project Conversion from RevEquip
RevEquip Builds Revit Projects
Foodservice design professionals are receiving more and more BIM-based RFPs and the need for a trusted Revit document production source is essential for success. RevEquip's custom project conversion program is the answer for efficient, smooth CAD to Revit conversions.  It has been estimated that creating a Revit workstation, including initial training for personnel, can cost in excess of $15,000 per station.  For consultants that cannot carry high extra costs of the necessary hardware, software, and training; having a source for competitively priced Revit documentation can be a welcome relief.
How does document conversion work?
Just as designers and drafters have converted programmed spaces from sketches to working CAD drawings, Revit technicians follow those same processes.  Revit document production can start after the consultant (you) lays out programmed space, involves the client with thoughtful consultation, works out the ergonomics of the foodservice workstations, and selects and itemizes equipment.  Our Revit technicians will then import your scanned sketches (or CAD drawings) and place the specified Revit Family models into equipment floor plans.   This results in a 3D model from which the RevEquip team can develop walk/fly throughs, elevations, schedules etc. These Revit documents can then be exported back as CAD plans for your staff to review and approve.
Why Revit? Revit Modeling gives the Architect and/or General Contractor the ability to check documents for object interferences.  (Interference Checks/Clash Detection) It also provides the consultant with potentially unlimited 3D view for client presentations. This is an amazing communication tool for your clients who don't read plans.
What does it cost?  Cost is dependent on the size, complexity, and scope of services required. For example, if only Design Development is required or a portion of that phase, our fees would be just a small percentage including revisions for ever-changing backgrounds. As a part of your production team, we will share in your pain if it comes to that.
How long does it take to get a quotation?  We can provide an estimate for a Revit project development within 48 hours. 
What needs to be provided to get a quote for Revit conversions? We require a floor plan of the space to be developed, an itemized list of proposed Revit deliverables (phases of development or list of drawings etc.), and a time frame. 
What drafting standards should be used when creating your Revit documents?  We build according to the standards set by the Foodservice Consultants Society International (FCSI) which show enough detail for clarity without eating up computer storage.